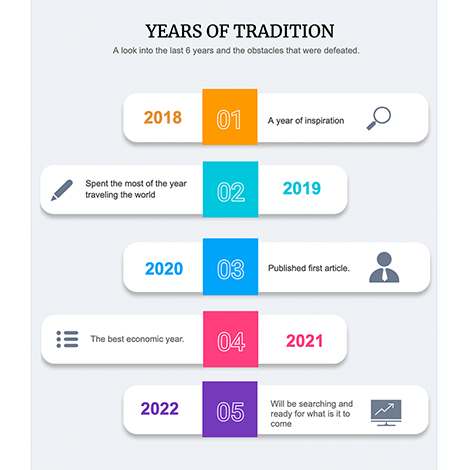 Introducing the 'Vertical Modern Bubble' Google Docs Template — your ultimate solution for creating compelling and visually striking timelines. Our vibrant, modern design paired with a user-friendly layout is guaranteed to make your timelines come alive like never before.

This helpful template allows for a streamlined presentation of information in a chronological order. It features a vertical timeline, which is both sleek and efficient, ensuring your content is easily digestible. This template is perfect for project plans, business reports, historical events, personal timelines, and so much more.

Our template is brought to life with a selection of vibrant and modern hues that create a dynamic and engaging aesthetic. Each bubble along the timeline is uniquely colored with an associated number from 1-5, making the progression of time or events easy to follow.

Designed to draw the eye, our template boasts bold, distinctive icons to add a strong visual component to your timeline. Whether representing a key milestone or a significant event, these simple and effective icons add an extra layer of comprehension to your content.

In each of the bubbles, there is ample space to add your content. This allows for an easy, clear representation of your data or milestones, making your timeline informative yet straightforward. The interface is designed to be intuitive and easy-to-use, enabling you to update and modify content as per your needs.

Our 'Vertical Modern Bubble' Google Docs Template is not just about presenting information; it's about doing it with style. With its colorful design, strong icons, and practical layout, your timeline will not only be informative but also a visually pleasing experience. Elevate your content with our template and let your timelines make a bold statement!