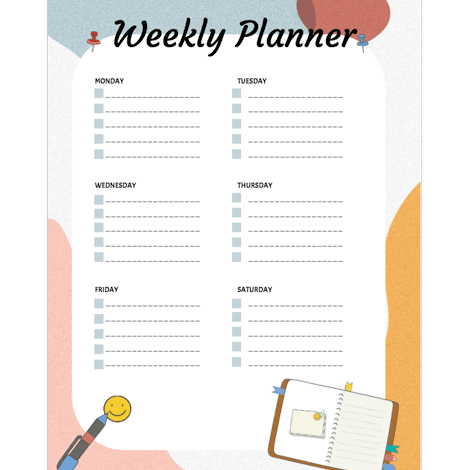 Introducing the Student Weekly Planner template for Google Docs! This template is designed to help students stay organized and on track with their weekly tasks, assignments, and goals. With a simple and user-friendly format, students can easily manage their time and priorities.

The Student Weekly Planner template includes sections for planning out each day of the week, including spaces for recording important assignments, due dates, and reminders. It also includes a to-do list section, where students can write down tasks they need to complete throughout the week, as well as a notes section for jotting down important thoughts and ideas.

The template is fully customizable, allowing students to adjust the design and layout to their preferences. Whether you're a high school student juggling multiple classes and extracurriculars or a college student balancing coursework and part-time jobs, this template is the perfect tool for keeping track of everything you need to do.

In summary, the Student Weekly Planner template for Google Docs is an essential organizational tool for students of all ages and levels. By helping students manage their time and priorities, this template can help them achieve academic success and reduce stress. Download it today and start staying on top of your weekly tasks and assignments!