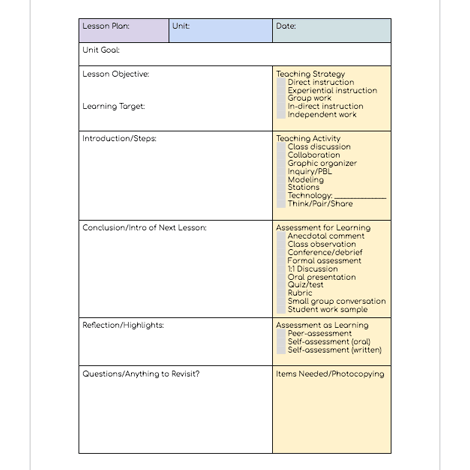 Introducing our Color-coded Checklist with Lesson Plan Google Doc template - the ultimate tool for teachers and educators to organize their lesson plans and ensure they stay on track!

This template features a color-coded system that makes it easy to visually distinguish between different lesson plan components, ensuring you never miss a step. The checklist format helps you keep track of completed tasks and those that still require attention, so you can stay focused and organized.

The Lesson Plan section allows you to detail your learning objectives, activities, and assessment plans, ensuring that you are well-prepared for each session. Plus, the color-coded checkboxes make it easy to track progress and ensure that all necessary steps are completed.

Whether you're a seasoned educator or just starting out, our Color-coded Checklist with Lesson Plan template is the perfect solution to help you stay organized and focused on your teaching goals. Try it out today and see the difference it can make in your lesson planning process!