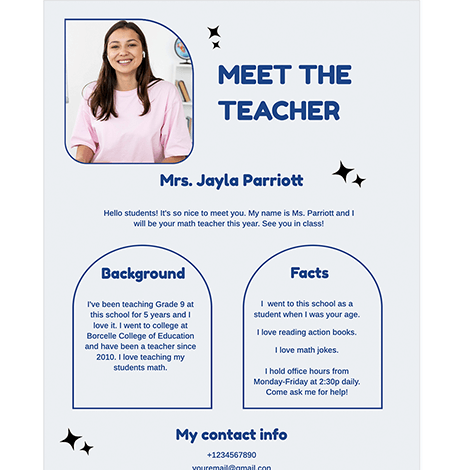 Illuminate the first impression with our 'Meet the Teacher Stars & Windows Page' Google Docs Template. Specifically designed to provide an engaging and comprehensive introduction, this template allows educators to seamlessly communicate with students and parents while leaving a lasting impression.

This friendly template boasts a charmingly simple design that offers maximum clarity and readability. It all starts with a dedicated placeholder for the teacher's photo, allowing students to place a face with a name and begin forging a personal connection from day one.

Following the photo placeholder is a warm 'Greeting Section', providing space to welcome students and share a brief, heartfelt message that sets a positive tone for the upcoming academic year.

The 'Background Section' is where you can share your professional journey and experiences, highlighting your qualifications and teaching philosophies. This gives students and parents insight into your commitment to education and your unique approach to teaching.

To inject a bit of fun and personality, we've included a 'Facts / About Me' section. This space is perfect for sharing your interests, hobbies, favorite books, or any quirky tidbits about yourself. It's a wonderful way to showcase your human side and build rapport with your students.

Lastly, our template offers a clear and concise 'Contact Info' area. Here, you can provide your email, office hours, or any other preferred method of contact, fostering open and effective communication lines right from the outset.

The layout sits on a soothing light blue background, adorned with playful stars. This pleasant aesthetic is inviting and non-intimidating, designed to put students at ease and make the reading experience enjoyable.

This template is the perfect blend of simplicity and style, facilitating meaningful connections with your students. Get started today and kick off your teaching journey on a high note!