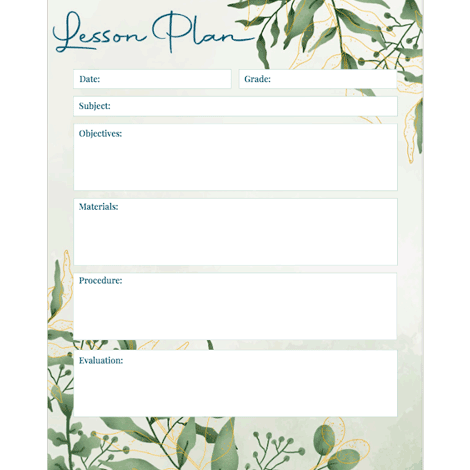 Discover the "Golden Green Leaves Lesson Plan & Life Coaching" Google Docs template, a captivating tool designed to elevate your educational and coaching experiences. This template boasts an inviting soft green backdrop adorned with intricate golden leaves and lush foliage, creating an environment that fosters both creativity and tranquility.

Are you an educator, mentor, or life coach seeking to streamline your planning and communication? Look no further. With its serene ambiance and thoughtfully structured layout, this template offers an optimal canvas to give life to your ideas. Craft your lesson plans or coaching materials effortlessly, unleashing your full creative potential within this captivating setting.

The template's clean and intuitive design ensures that your content is impeccably organized, with dedicated sections for objectives, materials, activities, and assessments. Not only is it highly functional, but it also adds a touch of elegance to your lesson plans and coaching materials, making them visually appealing.

Embrace a harmonious blend of nature's beauty and your innovative ideas with the "Golden Green Leaves Lesson Plan & Life Coaching" template. Let it be the catalyst for your journey in education, personal growth, and inspiration. Elevate your teaching and coaching game and embark on a new era of creativity and productivity with this exquisite template.