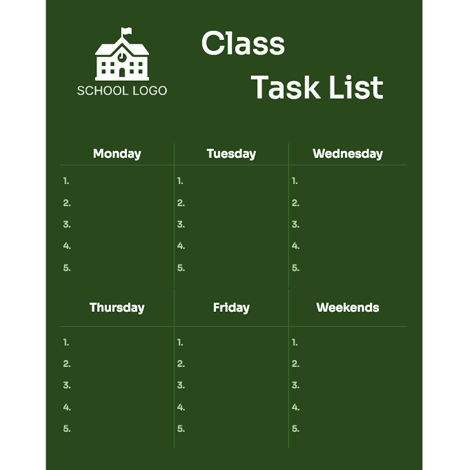 Step into a new era of academic organization with our "Class Schedule" Google Docs template. Ideal for students, educators, and academic professionals, this template is here to simplify your life and elevate your planning.

With its refreshing green background and customizable space for your school logo, our template not only offers a professional touch but also a personal one. It allows you to make your class schedule uniquely yours, right from the start.

Say goodbye to the hassle of juggling your classes and assignments. This template provides designated sections for each day of the week, making it effortless to fill in essential details such as course names, instructor names, and classroom locations. Whether you're managing your student schedule or coordinating your teaching hours, this template is your reliable companion.

The user-friendly design and easy-to-fill fields ensure that you'll never miss a class or deadline again. It's time to regain control of your academic journey and maximize your productivity. Download the "Class Schedule" Google Docs template today and embark on a path to a more organized and successful academic life.