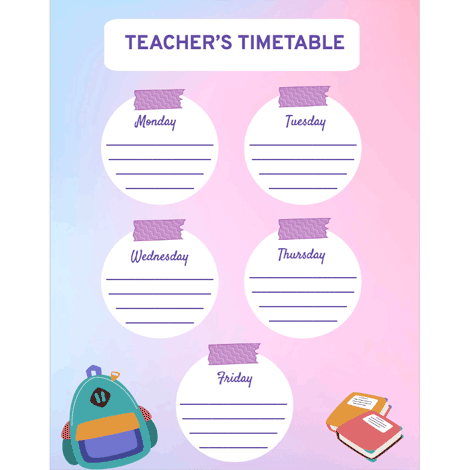 Experience the perfect fusion of form and function with our "Weekly Teacher's Timetable Gradient Page" Google Docs template. Crafted for educators like you, this template marries an eye-catching blue gradient background with charming illustrations of textbooks and workbooks, creating a visually appealing canvas for your weekly lesson planning.

Imagine having a well-organized, elegant timetable at your fingertips for all seven days of the week. The gradient backdrop doesn't just add a touch of sophistication; it evokes a sense of harmony, making your teaching schedule feel more like a work of art than a chore.

With dedicated sections for each day of the week, you can seamlessly map out your teaching schedule, assignments, and important events. The flexibility of Google Docs ensures that you can access and update your timetable anytime, from any device. This means that, whether you're at school, home, or on the go, your teaching plans are always within reach.

In a profession where every minute counts, our "Weekly Teacher's Timetable Gradient Page" is your ultimate ally in maintaining an organized and aesthetically pleasing teacher's schedule. Harness the power of this template to maximize your creativity, boost your productivity, and leave an enduring impact on your students. Elevate your teaching game today and transform your schedule into a work of art!