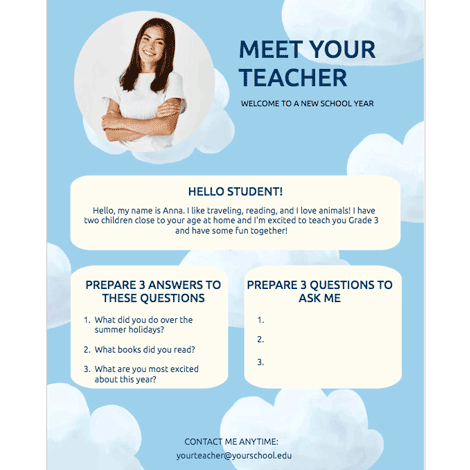 Introducing our new Meet Your Teacher flyer Google Doc template for primary schools! This template is the perfect tool to help you introduce yourself and welcome your new students and their families to your classroom.

Featuring bright cloud graphics and a clean, professional layout, our Meet Your Teacher flyer is easy to customize with your own photo, name, and contact information. The template includes sections for sharing information about your teaching experience, education, and approach to teaching, as well as a section for important dates and classroom policies.

With its user-friendly interface and customizable design, this template is sure to help you make a great first impression and set the tone for a successful school year. You can easily edit and update the template as needed, making it the perfect tool for back-to-school night or any other classroom event.

So why wait? Download our Meet Your Teacher flyer Google Doc template today and start introducing yourself to your students and their families in style!