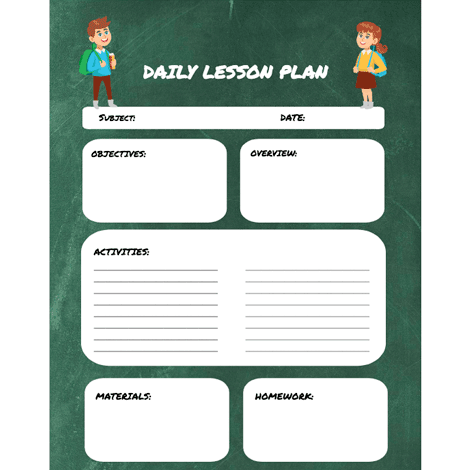 Introducing our new Google Doc template for Chalkboard Daily Lesson Plans, designed to give your lesson plans a classic, timeless feel.

This template features a beautiful chalkboard background that adds a touch of nostalgia to your lesson plans. The chalkboard design creates a perfect backdrop for all your lesson plan information, including objectives, materials, procedures, assessment, and more. The template is easy to customize, and the text is formatted with readable fonts, ensuring that your plans are easy to read and understand.

Whether you're a teacher looking to create an engaging, interactive lesson plan or a homeschooling parent looking for a unique way to organize your day, our Chalkboard Daily Lesson Plan template is perfect for you. With this template, you can create a beautiful, professional-looking lesson plan that captures your students' attention and helps them stay engaged throughout the day.

So why wait? Download our Chalkboard Daily Lesson Plan template today and start creating beautiful, organized lesson plans that will make your students excited to learn!