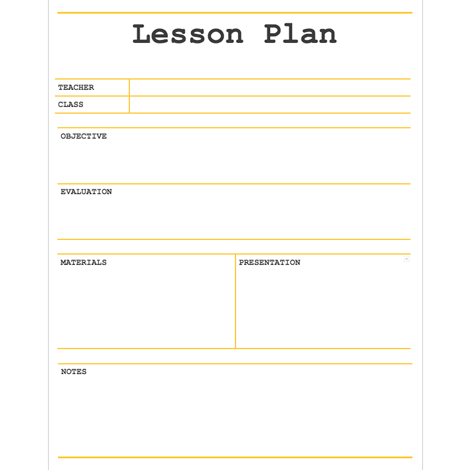 Introducing the Yellow & Black Lesson Plan template for Google Docs! This template features a striking yellow and black color scheme on a white background, creating a visually appealing and professional-looking lesson plan.

The Yellow & Black Lesson Plan template includes sections for outlining the lesson objectives, specifying materials needed, and breaking down the lesson into clear and actionable steps. It also includes sections for assessment and reflection, ensuring that educators can evaluate their students' progress and improve their future lessons accordingly.

The template is fully customizable, allowing educators to adjust the design and layout to their preferences. Whether you're teaching elementary school, high school, or university, this template can help you create a well-structured and effective lesson plan that engages your students and achieves your teaching objectives.

In summary, the Yellow & Black Lesson Plan template for Google Docs is an essential tool for educators who want to create visually appealing and effective lesson plans. With a professional and customizable design, this template can help educators communicate lesson objectives, activities, and assessments clearly and effectively. Download it today and start using this beautiful template to enhance your lesson planning and teaching!