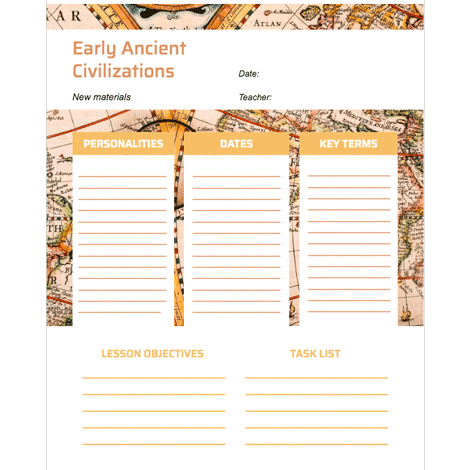 Our History Lesson Plan Google Doc Template is the perfect tool for history teachers looking to bring their lessons to life. Featuring a beautifully designed ancient civilization map as the background, this template allows you to create engaging and informative lesson plans that transport your students back in time.

With sections for lesson objectives, instructional materials, activities, and assessments, our History Lesson Plan template makes it easy to structure and plan your lessons with precision and detail. The ancient civilization map serves as a visual aid and helps to contextualize the lesson for your students, making it easier for them to understand and retain the information.

Whether you're teaching about the ancient Greeks, Romans, Egyptians, or any other civilization, our History Lesson Plan with Ancient Civilization Map Background template will help you create captivating lessons that will keep your students engaged and excited about history. Plus, with the power of Google Docs, you can easily share your lesson plan with colleagues, make edits in real-time, and access your plan from anywhere with an internet connection.

So why wait? Bring history to life with our History Lesson Plan with Ancient Civilization Map Background Google Doc Template.