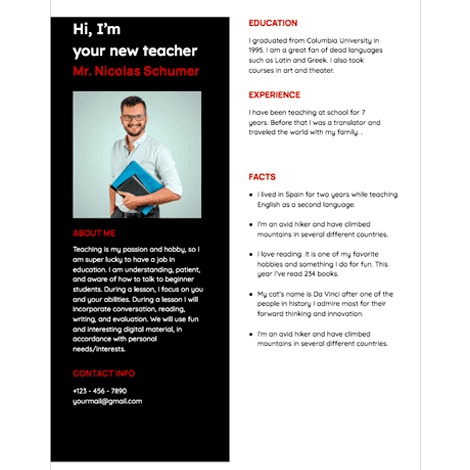 Introducing our Meet the Teacher Black and White Page with Teacher's Photo Google Doc template! This template is perfect for teachers who want to make a great first impression with their students and their families in a clean, professional, and timeless style.

Featuring a sleek black and white design, this template is modern and sophisticated, allowing your photo to be the focal point of the page. Simply upload your favorite headshot and add your name, grade level, and a brief bio to introduce yourself to your students and their families.

This Meet the Teacher template is fully customizable, allowing you to add your own text and information about your classroom and teaching philosophy. With its clean and simple layout, this template is perfect for teachers who want to present themselves in a professional and approachable manner.

Whether you're a new teacher just starting out or a veteran educator looking to refresh your Meet the Teacher page, this template is the perfect choice for creating a polished and memorable first impression. Try it out today and get ready to impress your students and their families with your professionalism and style.