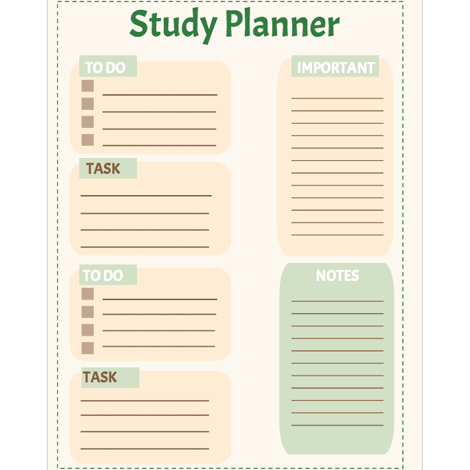 Introducing the Study Planner template for Google Docs! This easy-to-use template is designed to help students plan and organize their study sessions effectively. With a simple and user-friendly format, students can easily track their progress and achieve academic success.

The Study Planner template includes sections for scheduling study sessions, specifying study goals, and tracking progress. It also includes a to-do list section where students can list the tasks they need to complete, as well as a notes section for jotting down important thoughts and ideas.

The template is fully customizable, allowing students to adjust the design and layout to their preferences. Whether you're studying for a big exam or working on a long-term project, this template is the perfect tool for staying on track and achieving your academic goals.

In summary, the Study Planner template for Google Docs is an essential organizational tool for students of all ages and levels. By helping students plan their study sessions effectively, this template can help them achieve academic success and reduce stress. Download it today and start taking control of your study sessions!