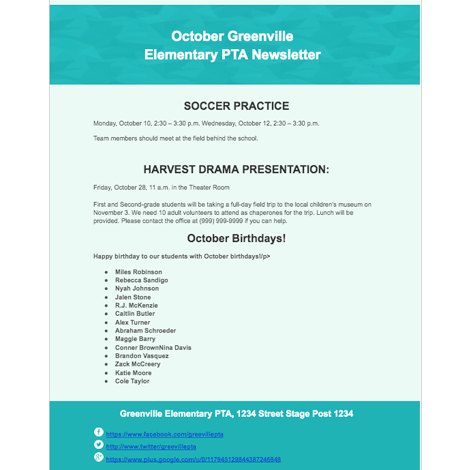 Introducing our latest Google Doc template for a PTA Newsletter with a sleek and modern mint green color scheme. This template is designed to help you easily create a visually appealing newsletter that will keep your readers engaged and informed.

With its user-friendly layout, you can quickly add your school's logo, images, and text to customize it for your needs. The green color scheme exudes a fresh and inviting feel, making it perfect for any school PTA newsletter.

This template is fully editable, allowing you to add or remove sections as needed. It also includes predefined styles for headings, subheadings, and body text, ensuring your newsletter is consistent and professional-looking.

Save time and effort with our PTA Newsletter template and communicate with your school community in style.