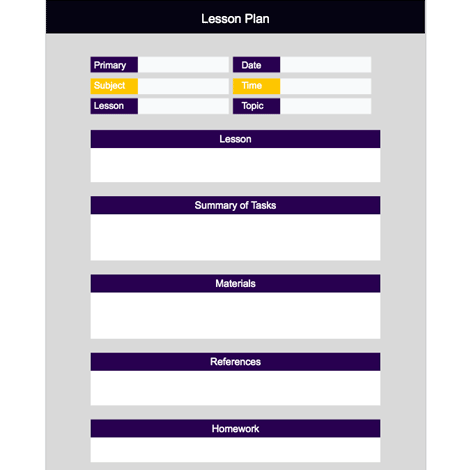 Introducing the Lesson Plan 1 Google Doc template - the perfect tool for educators who want to create a sleek and modern lesson plan.

Designed with a sophisticated black, grey and purple color theme, this template is both professional and practical. The layout includes sections for learning objectives, materials needed, a warm-up activity, lesson instructions, and space for reflection and assessment.

With Google Docs' easy-to-use editing tools, you can customize the template to fit your specific teaching needs, whether you're instructing high school students or leading a professional development workshop. The elegant color scheme adds a touch of style to your lesson plan, while maintaining a focus on clarity and organization.

Whether you're a seasoned educator or just starting out, the Lesson Plan with Black, Grey and Purple Color Theme Google Doc template is an excellent resource for creating effective and visually appealing lesson plans.