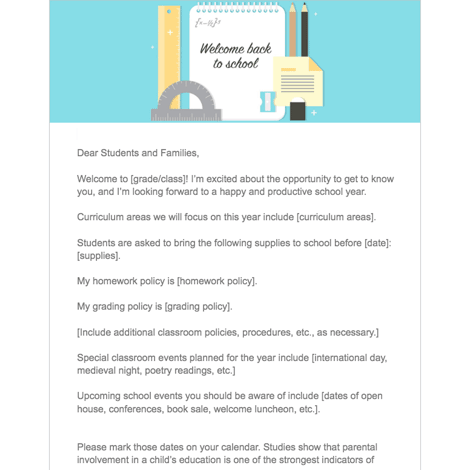 Prepare to embark on a new school year with confidence and a warm welcome, courtesy of our "Welcome Letter to Students and Families" Google Docs template. This meticulously crafted template simplifies the process of reaching out to your students and their families, enabling you to establish a strong and positive connection right from the outset.

Highlighted by an inviting image of a notebook graced with the heartfelt message, "Welcome back to school," and encircled by an array of vibrant pens, this template not only exudes your excitement but also lends a visually appealing touch to your message. Whether you're a seasoned educator or new to the teaching field, this template ensures that your communication strikes a perfect balance between professionalism and engagement.

What truly distinguishes this template is its ability to unleash your creativity. It provides a well-structured framework that seamlessly guides you through the essential components, including your introduction, class expectations, contact information, and significant dates and events. Customizing the template to align with your unique teaching style is a breeze, thanks to its adaptable features. By employing our "Welcome Letter to Students and Families" template, you can streamline your efforts, save valuable time, and leave a memorable first impression. This, in turn, fosters a spirit of collaboration and partnership right from the outset, creating a lasting impact on students and their families. Welcome them with style and warmth, and maximize the potential of this Google Docs template for a successful and harmonious school year start.