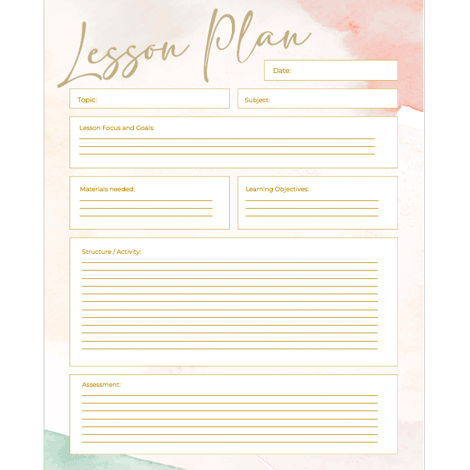 Introducing our beautifully designed Lesson Plan template with a Watercolor background! This Google Doc template is perfect for educators looking to add a touch of creativity to their lesson planning. The stunning watercolor design provides a calming and inspiring backdrop to help you stay focused and organized as you plan out your lessons.

This template includes sections for outlining learning objectives, materials needed, and detailed lesson plans, making it easy to stay on track and ensure that your lessons are both effective and engaging. With its user-friendly interface, this template is simple to use, even for those who are new to Google Docs.

So whether you're a seasoned educator or just starting out, our Lesson Plan template with a Watercolor background is a must-have tool to help you plan and deliver exceptional lessons that will leave a lasting impact on your students.