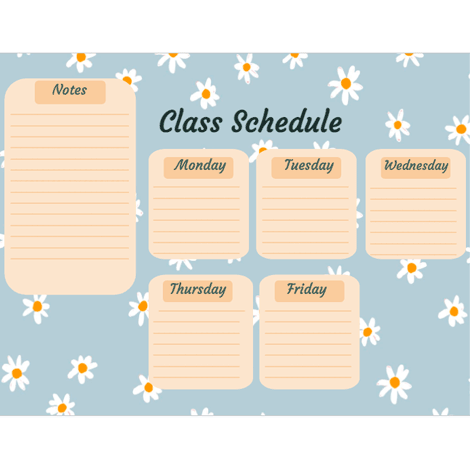 Introducing our Daisy Daily Class Schedule Google Doc template - the perfect tool to help you plan and organize your daily classroom activities in a fun and colorful way!

Featuring a charming illustrated daisy background, this template is sure to bring a smile to your students' faces as they follow along with your daily schedule. The easy-to-use format allows you to list out your classes and activities in a clear and concise way, ensuring that everyone is on the same page and knows what to expect throughout the day.

Whether you're a kindergarten teacher looking to add a playful touch to your classroom routine, or simply want to bring a bit of nature-inspired beauty to your daily schedule, our Daisy Daily Class Schedule template is the perfect solution.

With its user-friendly design and charming daisy background, this template is sure to become a favorite among both teachers and students alike. Try it out today and see how it can help you stay organized and focused throughout the school day!