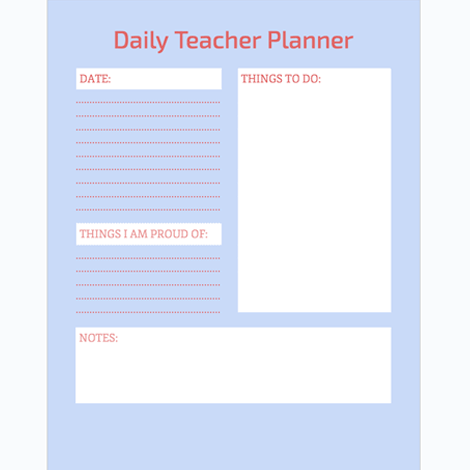 Introducing the Simple Daily Teacher Planner template for Google Docs! This user-friendly template is perfect for busy educators who want to stay organized and on top of their daily tasks. With a clean and easy-to-use design, you can quickly and easily jot down your daily schedule, lesson plans, to-do lists, and important notes.

The Simple Daily Teacher Planner template features a customizable header that you can personalize with your name, subject, and grade level. The daily schedule section allows you to schedule your day from 7am to 7pm, ensuring that you never miss an important meeting or task. The lesson plan section includes space for the date, subject, topic, and notes, so you can keep your lessons organized and structured.

The to-do list section is perfect for keeping track of your daily tasks and deadlines, while the notes section provides ample space for important reminders and ideas. The template is fully editable, so you can easily make changes and customize it to fit your unique needs.

In short, the Simple Daily Teacher Planner template for Google Docs is a must-have tool for any teacher who wants to stay organized and efficient. Download it today and start enjoying the benefits of a streamlined, easy-to-use daily planner!