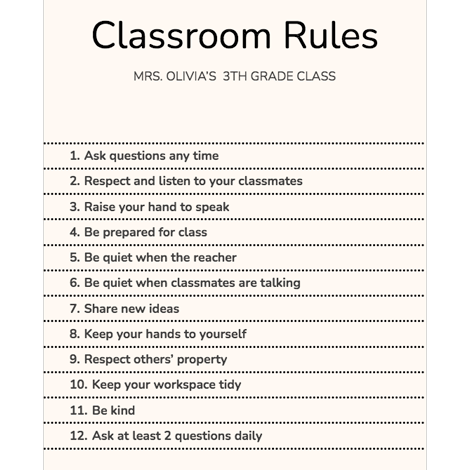 Introducing our new Google Doc template for Class Rules lists, designed to help you establish clear expectations and guidelines for your classroom.

This template features a simple and straightforward layout, with sections for each rule and its corresponding description. The text is formatted with readable fonts, making it easy to customize to your specific needs.

Whether you're a teacher looking to establish a positive classroom culture or a student leader trying to create a respectful learning environment, our Class Rules template is perfect for you. With this template, you can easily input your classroom rules, expectations, and consequences, ensuring that everyone is on the same page from day one.

The template is fully customizable, so you can adjust it to fit your unique classroom culture and expectations. Whether you want to emphasize respect, responsibility, or kindness, our Class Rules template is adaptable to any situation.

So why wait? Download our Class Rules template today and start establishing clear expectations for your classroom. With our template, you can create a positive and productive learning environment where everyone can thrive.