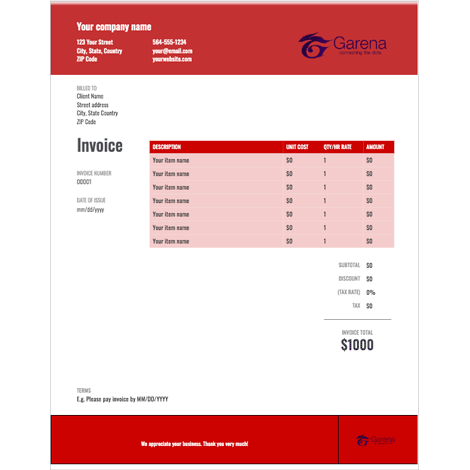 Introducing our new Google Doc template for a Red & White Invoice - the perfect solution for businesses and individuals looking for a bold and professional way to manage their invoicing needs.

This template features a striking design with a red and white color scheme, creating a powerful and attention-grabbing feel. It's easy to use and fully customizable, allowing you to tailor the template to your specific needs and branding.

The Red & White Invoice template includes all the essential elements you need in an invoice, including space for your logo, customer information, itemized billing details, and payment terms. Plus, with the power of Google Docs, you can easily collaborate with your team or clients and securely store your invoice data in the cloud.

Not only does our Red & White Invoice template save you time and effort in creating professional invoices, but it also helps you make a statement and reinforce your brand identity. So, start using our Red & White Invoice template today and take your invoicing to the next level!