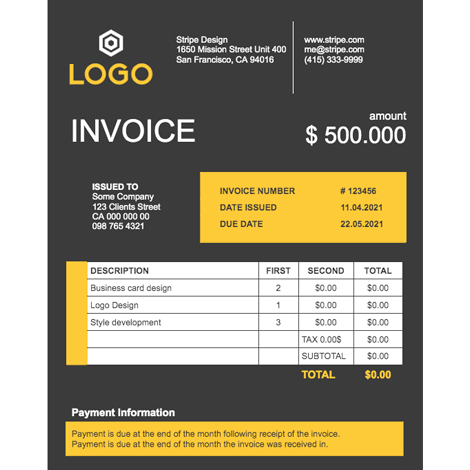 Introducing our new Bold Invoice Google Doc template in a sleek dark grey, yellow, and white color scheme! This modern and eye-catching template is perfect for small business owners and freelancers who want to create professional-looking invoices that stand out.

With its bold typography and minimalist design, this template is sure to impress your clients and help you get paid faster. The dark grey background provides a sophisticated look, while the yellow and white accents add a pop of color and draw attention to important details.

The template is fully customizable, allowing you to add your company logo, business information, and payment details. You can also easily edit the text, change the colors, and adjust the layout to suit your needs.

In addition to its stunning design, our Bold Invoice template is also easy to use and comes with a user-friendly interface. So why spend hours creating invoices from scratch when you can download our template and start sending out professional-looking invoices today?

Download our Bold Invoice Google Doc template now and streamline your invoicing process like a pro!