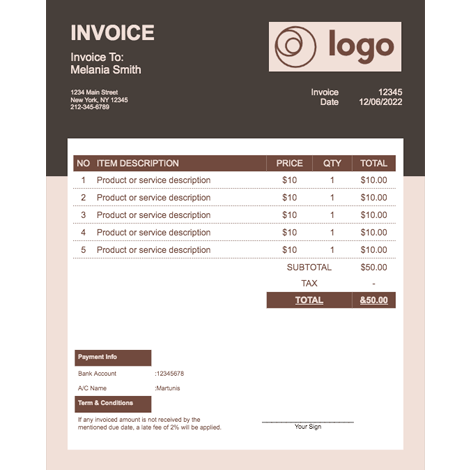 Elevate your invoicing game with our "Green Brown Invoice" Google Docs template. This meticulously crafted template not only streamlines your billing process but also exudes an air of professionalism that leaves a lasting impression on your clients.

Featuring a sophisticated color palette of rich, dark brown tones, this template instantly communicates reliability and sophistication. With an easily customizable area for your company logo, you can add a personalized touch that sets your invoices apart from the ordinary.

The "Green Brown Invoice" template is more than just a pretty face; it's a versatile tool designed to make your invoicing process effortless. Simply input all the necessary information and contact details with ease, ensuring accuracy and professionalism in your financial documents.

But it doesn't stop there. This template simplifies complex aspects of invoicing by including fields for tracking working days, calculating subtotals, adding sales tax, and arriving at the final total. It empowers you to generate clear, accurate invoices without the usual headaches.