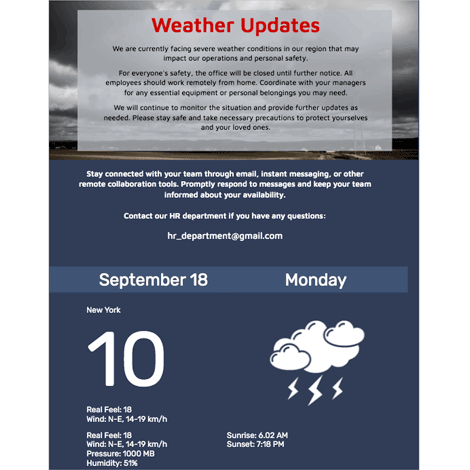 Introducing our efficient Google Doc template for Severe Weather Company Notifications! This template is designed to streamline communication and ensure timely and clear notifications to employees, clients, and stakeholders during severe weather events.

Ideal for businesses and organizations operating in regions prone to extreme weather conditions, this template features a professional and organized layout. With customizable sections, you can effortlessly input essential information such as emergency alerts, safety protocols, contact details, and any critical updates related to severe weather.

Our Google Doc template offers an easy-to-use platform, allowing you to personalize the text, colors, and formatting to align with your company's branding and communication style. Whether it's storm warnings, evacuation notices, or safety guidelines, this template ensures your messages are well-structured and easy to understand.

With this template, companies can enhance their communication efficiency during severe weather events, fostering trust and ensuring the safety of employees and stakeholders. Simplify your notification process and ensure that your messages are concise, clear, and professional with our Severe Weather Company Notification template.