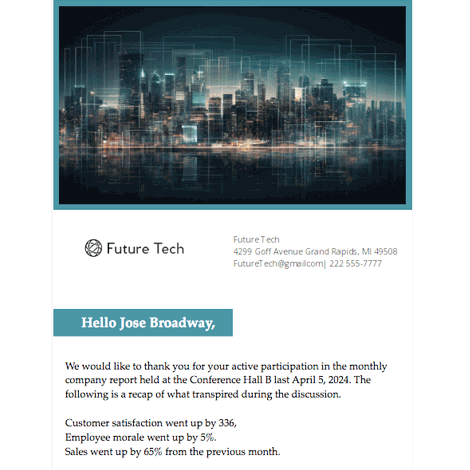 Introducing our Company Clean Newsletter Google Docs template, a modern and elegant solution to effortlessly create professional newsletters for your business. This template is designed to provide a sleek and clean aesthetic, ensuring your newsletters capture attention and deliver information effectively.

With its user-friendly interface, this template allows you to easily customize and personalize your newsletters to align with your company's brand identity. Add your logo, choose from a selection of stylish fonts, and incorporate your brand colors to create a cohesive and visually appealing newsletter that represents your company's professionalism.

The Company Clean Newsletter template offers a well-structured layout that makes it easy to showcase your latest updates, announcements, and articles. It features sections for headlines, featured articles, highlights, upcoming events, and social media links, ensuring your readers stay engaged and informed.

Whether you're sending newsletters to customers, employees, or stakeholders, this template is optimized for readability across different devices. It ensures your newsletters look great on desktops, laptops, tablets, and mobile phones, providing a seamless reading experience for your recipients.

By utilizing our Google Docs template for Company Clean Newsletters, you can save time and effort in designing and formatting your newsletters while maintaining a professional and polished appearance. Enhance your company's communication strategy and build stronger connections with your audience through visually appealing and well-organized newsletters.

Upgrade your newsletter game today with our Company Clean Newsletter Google Docs template and make a lasting impression with your audience.