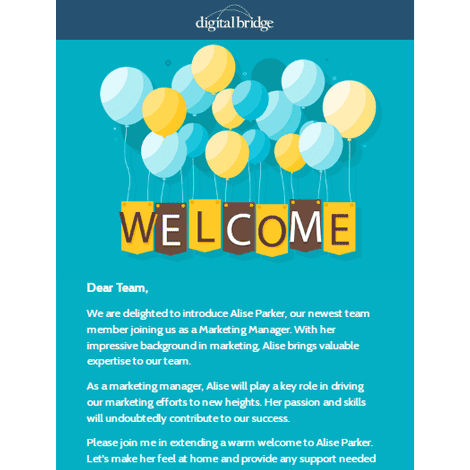 Introducing our vibrant and engaging Google Docs template for New Hire Welcome Balloons messages, complete with animated balloons that bring a sense of celebration and excitement to your email communication.

With this template, you can create a warm and memorable welcome message for new hires, making them feel valued and embraced from day one. The animated balloons add a delightful touch, creating a visually appealing and joyful experience for your recipients.

Our Google Docs template allows you to customize the message to suit your company's branding and style. You can easily add your company logo, select the desired font, and incorporate your brand colors, ensuring a cohesive and professional look.

The template provides a user-friendly interface, making it simple to personalize your message and add relevant details such as the new hire's name, position, and a personalized welcome note. You can also include links to helpful resources, an introduction to the team, or any other relevant information to support the on-boarding process.

Designed with mobile responsiveness in mind, our Gmail Email template ensures that the animated balloons and welcoming message display perfectly on any device. Whether your recipients are viewing the email on a smartphone, tablet, or desktop computer, the experience will be seamless and enjoyable.

Welcome new hires in style and create a positive first impression with our Google Docs template for New Hire Welcome Balloons messages. Spark enthusiasm, foster engagement, and establish a welcoming culture within your organization using this delightful and visually captivating template.

Get started today and make your new employees feel like part of the team with our animated balloons Google Docs template.