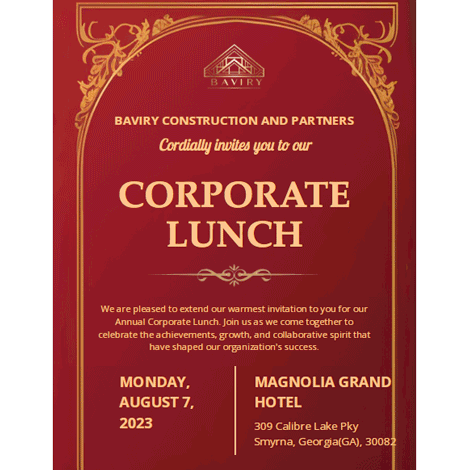 Introducing our Classic Corporate Lunch Company Invite Google Doc template—a perfect solution for organizing and inviting guests to your esteemed corporate lunch events. This thoughtfully designed template combines timeless elegance with effortless functionality, ensuring a seamless invitation process that reflects the professionalism of your business.

With its sophisticated layout and refined aesthetics, this template exudes a sense of class and prestige. Its clean and tasteful design captures the essence of a corporate setting, making it an ideal choice for formal lunches, executive meetings, or networking events. Impress your recipients from the moment they open the email, setting the tone for an exceptional dining experience.

Designed to save you time and effort, our template offers a user-friendly interface that allows for easy customization. Simply input the event details such as the date, time, venue, and any additional information, and watch the template transform into a visually captivating invitation. The template's responsive design ensures a seamless viewing experience across various devices, guaranteeing that your message looks impeccable on desktops, tablets, and smartphones.

With this Classic Corporate Lunch Company Invite template, you can effortlessly create invitations that leave a lasting impression. Enhance your company's image, boost attendance, and foster valuable connections. Elevate your corporate lunches to a new level of professionalism and sophistication with this versatile and visually appealing template.

Simplify your invitation process and make a statement with every invite. Choose our Classic Corporate Lunch Company Invite Google Doc template and ensure your events are met with the attention and prestige they deserve.