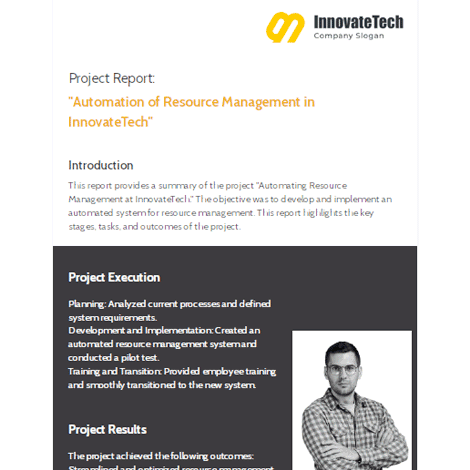 Introducing our Google Docs template designed specifically for Company Project Reports. This template is a powerful tool that allows you to present your project findings in a professional and comprehensive manner, directly in your Gmail emails.

With its clean and structured layout, our Google Docs template for Company Project Reports ensures that your reports are visually appealing and easy to navigate. It includes sections for project objectives, scope, methodology, key milestones, accomplishments, challenges, and future recommendations, providing a complete overview of your project's progress and outcomes.

Customizing the template is a breeze. Add your company's logo, incorporate your brand colors, and easily adjust the formatting to match your style preferences. You can also attach additional files or documents for more detailed information, making it convenient for recipients to access supplementary materials directly from the email.

Our template is mobile-responsive, guaranteeing that your project reports look professional and are easily readable on any device, be it a smartphone, tablet, or desktop computer. This ensures that your audience can review and engage with your project reports conveniently, no matter where they are.

By utilizing our Google Docs template for Company Project Reports, you streamline your communication process, saving time and effort in creating visually appealing reports. Impress clients, stakeholders, and team members with a comprehensive and well-organized project report directly in their email inbox.

Enhance your project reporting efficiency and professionalism with our Google Docs template today. Transform the way you share project updates and achievements by delivering impactful and informative reports that make a lasting impression.