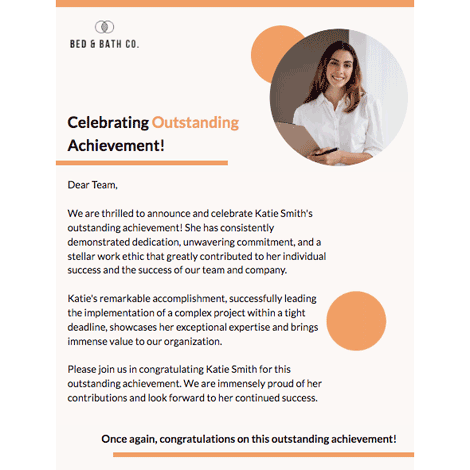 Introducing our Company Employee Recognition Announcement Google Doc template—a powerful tool to celebrate and acknowledge the achievements of your exceptional employees. This template is designed to help you create impactful and heartfelt announcements that recognize the hard work and dedication exhibited by your team members.

With its sleek and modern design, this template captures attention while conveying a sense of appreciation and recognition. The clean layout and visually appealing graphics make it easy for recipients to grasp the significance of the announcement and feel valued for their contributions. Showcasing your company's commitment to recognizing and rewarding outstanding performance, this template fosters a positive and motivating work culture.

Customizable and user-friendly, our template allows you to personalize each employee recognition announcement effortlessly. Input the employee's name, their accomplishment, and a personalized message to create a heartfelt and meaningful announcement. The responsive design ensures the template looks great on any device, enabling your recipients to view the announcement with ease.

By utilizing the Company Employee Recognition Announcement template, you can amplify the impact of your recognition efforts. Showcase the achievements of your employees in a professional and visually appealing manner, ensuring they feel valued and motivated to continue excelling. Strengthen employee morale, inspire others, and foster a sense of pride within your organization with this exceptional template.

Streamline your employee recognition process and celebrate success with every announcement. Choose our Company Employee Recognition Announcement Google Doc template to showcase your appreciation and honor the hard work of your exceptional team members.