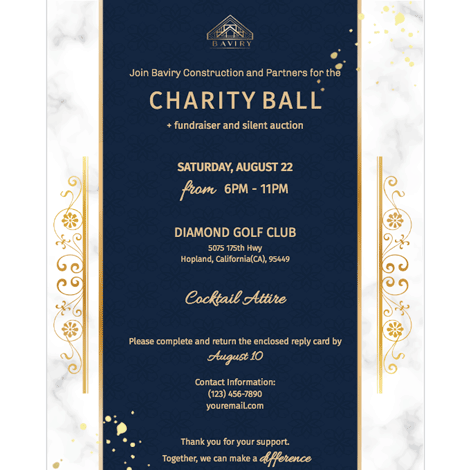 Introducing our elegant Google Doc template for a Formal Company Event Marble Invite! This template is designed to add a touch of sophistication and class to your corporate event invitations, setting the stage for a memorable and prestigious gathering.

Perfect for businesses, corporations, and organizations hosting formal events, this template features a timeless marble design that exudes luxury and professionalism. With customizable sections, you can effortlessly input essential event details, such as the date, time, venue, RSVP information, and any special instructions or agenda items.

Our Google Doc template provides a user-friendly editing experience, allowing you to easily customize the text, colors, and layout to align with your corporate branding and event theme. Whether you're planning a gala, awards ceremony, or corporate dinner, this template offers a refined and customizable solution for your formal event invitations.

With this template, you can make your formal company event invitations stand out with a touch of elegance. Impress your guests and create anticipation for your event with an invitation that exudes sophistication and professionalism, courtesy of our Formal Company Event Marble Invite template.