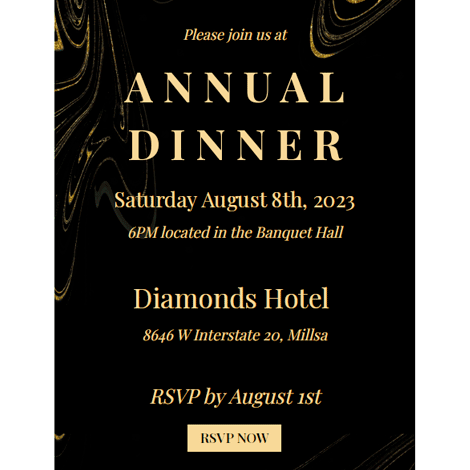 Introducing our exclusive Google Doc template designed specifically for your business dinner company invites. With its sleek and professional design, this template offers a seamless and efficient way to send out invitations to your esteemed guests, ensuring a memorable and successful event.

Crafted with attention to detail, this template captures the essence of sophistication and elegance. Its clean layout and visually appealing graphics create a lasting impression, reflecting the high standards of your business. Whether you're hosting a corporate gala, a networking event, or a formal dinner, this template will help you set the right tone and captivate your recipients.

Customizable and user-friendly, our Google Doc template allows you to personalize each invitation effortlessly. Simply input the event details, including the date, time, venue, and any additional information, and let the template do the rest. The template's responsive design ensures compatibility across various devices, ensuring your invitations look impeccable on desktops, tablets, and smartphones alike.

Save time and streamline your invitation process with this professionally designed Google Doc template. You can rely on it to deliver a polished and visually appealing message that will leave a lasting impression on your recipients. Impress your guests, boost attendance, and enhance your business's reputation with this elegant and user-friendly template.

Make a lasting impression with every invitation. Choose our Google Doc template for your business dinner company invites and elevate your event to new heights of professionalism and style.