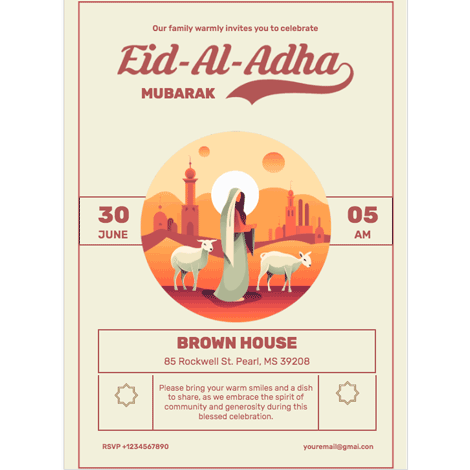 Introducing our captivating Google Doc template designed specifically for your Eid al-Adha Illustrated Invite! Make a lasting impression on your guests with this visually stunning template that combines elegant illustrations with the spirit of this joyous occasion.

Perfect for mosques, cultural organizations, and individuals hosting Eid al-Adha celebrations, this template adds a touch of artistic flair to your invitation. The template features beautiful illustrations inspired by the traditions and symbols of Eid al-Adha, creating a visually appealing and memorable design.

With its customizable sections, you can effortlessly fill in event details such as the date, time, and location of your Illustrated Invite. Craft a heartfelt message that conveys the significance of Eid al-Adha and the joy of gathering with loved ones. Enhance the invite with charming illustrations that evoke the spirit of togetherness and the festive atmosphere.

The Google Doc template provides a user-friendly editing experience, allowing you to personalize the invitation to align with your event's theme and style. Customize the text, colors, and images to create a cohesive and visually striking experience for your recipients.

With our Google Doc template for your Eid al-Adha Illustrated Invite, you can create an invitation that is both visually captivating and heartfelt. Impress your guests with a unique design that reflects the beauty and traditions of Eid al-Adha. Invite your community to a memorable and meaningful celebration with this exquisite template.