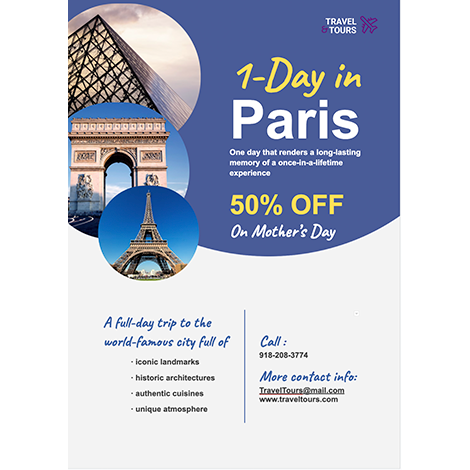 Introducing the Mother's Day Vacation Deal Google Docs Template – a vibrant and enticing way to promote your exciting travel deals, designed to spark the imagination and ignite the wanderlust in every traveler's heart. This visually stunning template captures the essence of adventure, allowing you to showcase your travel offers in a way that resonates with the dreams and desires of your audience.

This beautiful template features a captivating collage of breathtaking travel photos, capturing the beauty and diversity of your featured enchanting destination. The images weave together seamlessly, transporting your customers to a world of exploration and discovery. With its customizable layout, you can easily add or change photos to highlight the destinations and deals most relevant to your brand.

The template's dynamic layout combines bold typography with vibrant color accents to ensure your travel deal information and promotional messages are both eye-catching and easy to read. With a wide variety of customizable fonts, colors, and design elements, you can effortlessly adapt the template to match your brand's unique identity and travel offerings.

Fully responsive and compatible with all devices, this Google Docs template allows you to reach your customers wherever they may be, making their dream vacation only a click away. Engage and inspire your audience with this one-of-a-kind template designed to showcase the thrill of travel and the unforgettable experiences that await.

Unleash the explorer in your customers with the Mother's Day Vacation Deal Google Docs template, an innovative and visually captivating way to advertise your travel deals. Let this enticing design awaken the spirit of adventure and inspire your customers to embark on a journey they will never forget.