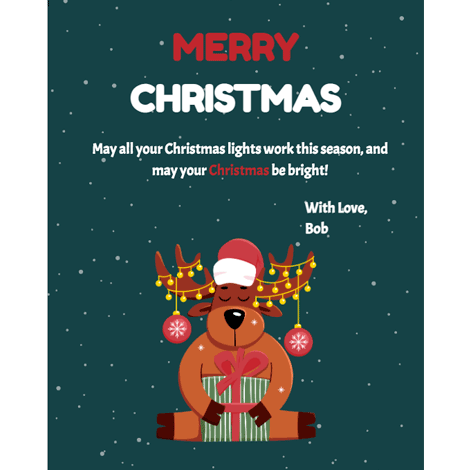 Introducing our Decked out Reindeer Christmas Card Google Doc template!

This festive and fun template is perfect for creating a unique and personalized Christmas card to send to your family and friends. The decked out reindeer design features a cute and whimsical character with a red nose, wearing a scarf and hat, surrounded by snowflakes and stars.

The template features fully customizable text, allowing you to add your own holiday message and personal touch. You can change the font, size, and color of the text to match your preference and choose from different layouts to create a design that best suits your style.

Whether you're looking for a playful card or a more traditional one, this template will help you create a memorable and fun Christmas greeting that will bring a smile to your loved ones' faces. With just a few clicks, you'll have a high-quality card that you can print or send digitally. Spread the holiday cheer with our Decked out Reindeer Christmas Card template!