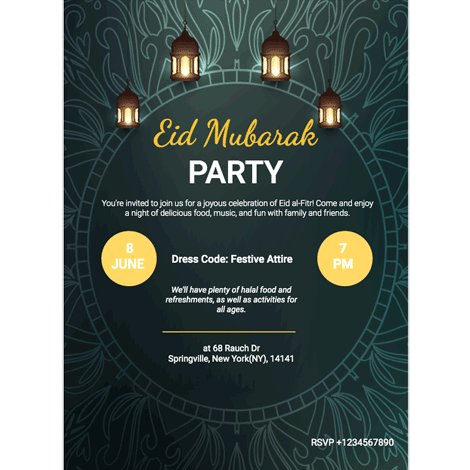 Embrace the spirit of Eid al-Fitr with a special evening event and make your guests feel truly honored. Our meticulously designed Google Doc template for Eid al-Fitr Evening Event Invitations is the answer you've been searching for.

This template exudes elegance and offers customizable text, empowering you to fashion a unique and heartfelt invitation. You can effortlessly tailor the template to include all the essential event particulars: the date, time, venue, dress code, and RSVP details.

Whether you're planning a sumptuous dinner, a cultural gathering, or a convivial social occasion, our template will guide you in crafting an invitation that sets the stage for an unforgettable celebration.

Why wait? Download our Eid al-Fitr Evening Event Invite template now and commence creating invitations that will remain etched in your guests' hearts for years to come!