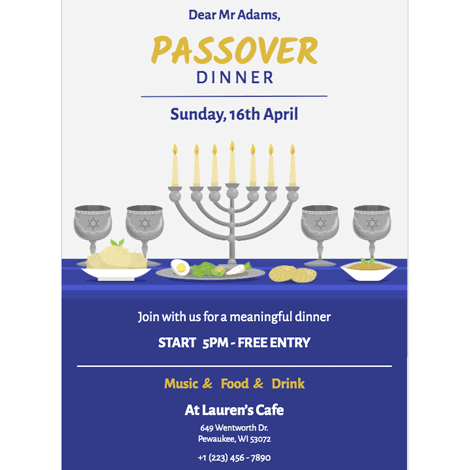 Introducing our Passover Dinner Event Google Doc template! This elegant and customizable template is perfect for inviting guests to your Passover dinner event.

The template features a beautiful design with traditional Passover elements, including the Star of David on a chalice and a Seder plate upon a blue tablecloth. The text is fully editable, allowing you to add your own personalized message and event details, such as the date, time, location, and RSVP information.

With this template, you can easily create a professional-looking invitation that will impress your guests and set the tone for a memorable Passover dinner. Simply download the template, customize it to your liking, and send it out to your guests via email or print it out for a physical invitation. Make your Passover dinner event extra special with our Passover Dinner Event Invitation Google Doc template!