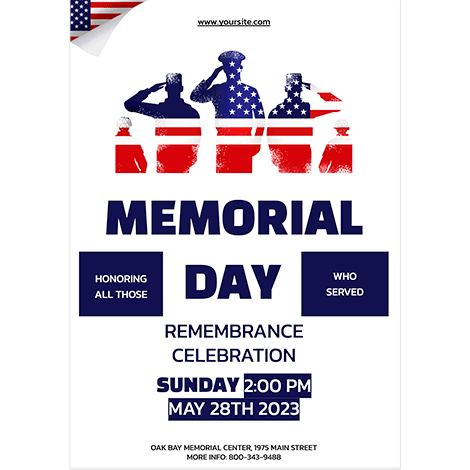 Introducing our Memorial Day Veterans Remembrance Event Google Doc Template, a powerful tool designed to help you plan and organize a meaningful and poignant event that honors our beloved veterans.

This professionally-crafted template provides a comprehensive framework for creating a Veterans Remembrance Event that pays tribute to the courageous men and women who have served our nation. From memorial ceremonies and speeches to military displays and commemorative activities, this template covers all aspects of the event, ensuring a heartfelt and respectful remembrance.

The template features customizable sections for event details, program schedules, guest speakers, and memorial displays, allowing you to create a well-structured and cohesive tribute. The intuitive layout ensures a smooth flow of the event, capturing the reverence and gratitude we hold for our veterans.

Personalize the template to reflect the tone and theme of your event. Adjust fonts, colors, and graphics to create a visually striking design that resonates with attendees and conveys the significance of the occasion. Incorporate meaningful images, quotes, or symbols that honor and celebrate our veterans' contributions.

Utilize the collaborative features of Google Docs by sharing the template with your organizing committee. Collaborate in real-time, make updates, and communicate effectively, ensuring a well-coordinated and impactful Veterans Remembrance Event.

Bid farewell to the stress of planning from scratch. Our Memorial Day Veterans Remembrance Event Google Doc Template saves you time and effort, allowing you to focus on creating a memorable and heartfelt experience that truly honors our esteemed veterans.

Don't miss out on this invaluable resource for organizing your Memorial Day Veterans Remembrance Event. Obtain our Google Doc Template and together, let us pay our deepest respects to those who have selflessly served our nation.