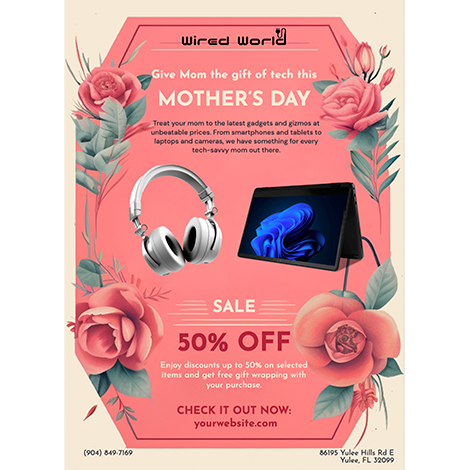 Introducing the Mother's Day Blossoming Love Sale Google Docs Template – an elegant and heartwarming way to showcase your Mother's Day sale, specially designed to make her feel treasured and appreciated. This customizable template captures the essence of Mother's Day with its delicate floral design and beautifully blended bright color palette. 

The Blossoming Love template thoughtfully highlights two of your must-have products with captivating images that are sure to catch the eye of every shopper searching for the perfect gift for mom. Each photo is artistically framed by a blooming flower, representing the nurturing care and endless love that defines motherhood. The easy-to-use layout ensures that your featured items shine as the stars of the show.

With adjustable fonts and colors, this Google Docs template allows you to personalize your Mother's Day sale message effortlessly. Craft a heartwarming message that speaks to the hearts of your customers and share exclusive sale details, like discounts or limited-time offers, to make this Mother's Day truly unforgettable.

As an added bonus, this template is compatible with all devices, ensuring that your Mother's Day sale will reach everyone, everywhere. Prepare to enchant your customers with this unique and endearing Google Docs template that not only promotes your sale but also celebrates the love and gratitude we all share for our beloved mothers.