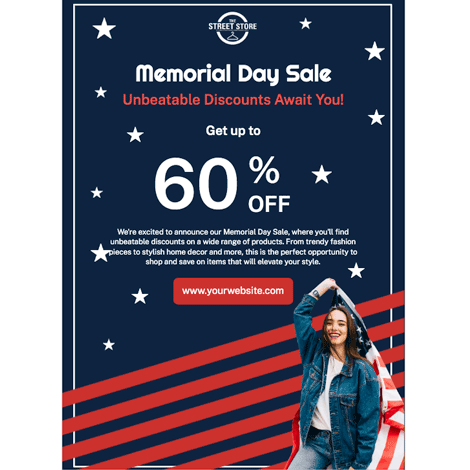 Introducing our Stripes & Stars Sale Google Doc Template, the ultimate resource for businesses to create an eye-catching and patriotic promotion for Memorial Day!

This professionally-designed template is perfect for showcasing your Memorial Day sale with a touch of Americana. The template features a vibrant layout adorned with stripes and stars, capturing the essence of the holiday and drawing customers' attention to your irresistible offers.

With customizable sections for sale details, discounts, product highlights, and promotional graphics, this template empowers you to create a visually appealing and compelling promotion that stands out from the competition.

Personalize the template to align with your brand's identity and the spirit of the sale. Adjust fonts, colors, and graphics to create a cohesive design that evokes a sense of patriotism and excitement. Add your own product images or incorporate patriotic imagery to further enhance the theme.

Collaborate seamlessly with your marketing team using Google Docs' collaboration features. Share the template, make real-time edits, and brainstorm ideas together to ensure a coordinated and impactful promotion for your Stripes & Stars Sale.

Say goodbye to the hassle of designing promotional materials from scratch. Our Stripes & Stars Sale Google Doc Template saves you time and effort, allowing you to focus on delivering unbeatable deals and exceptional customer experiences during this Memorial Day sale.

Don't miss out on this essential tool for organizing your Memorial Day Stripes & Stars Sale. Get your hands on our Google Doc Template today and watch as customers flock to your store or website, ready to take advantage of your patriotic discounts and promotions!