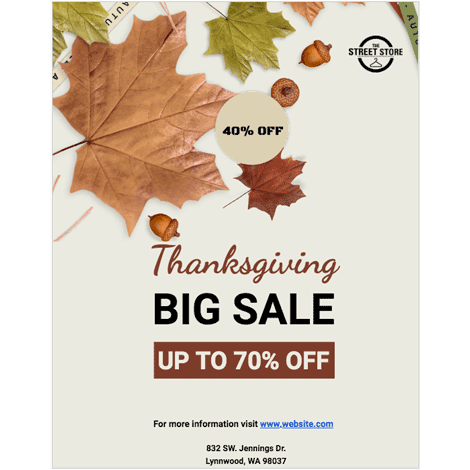 Get ready to boost your sales this Thanksgiving season with our Thanksgiving Big Sale Google Doc template! Featuring a warm and inviting color palette of autumnal oranges and browns, this template is the perfect way to announce your seasonal sale to customers and clients.

The template is fully customizable, allowing you to add your own text, images, and branding elements to create a professional-looking flyer or advertisement in no time. With its clear and concise layout, the Autumn Sale template is perfect for highlighting your best deals and discounts, and encouraging customers to take advantage of them.

Best of all, the template is designed for use with Google Docs, so you can easily collaborate with your team on creating the perfect promotion or access your work from anywhere, on any device.

Whether you're a small business looking to increase your sales or a larger organization promoting your seasonal offerings, our Autumn Sale Google Doc template has everything you need to make a big impact this Thanksgiving season. Try it out today and start boosting your sales!