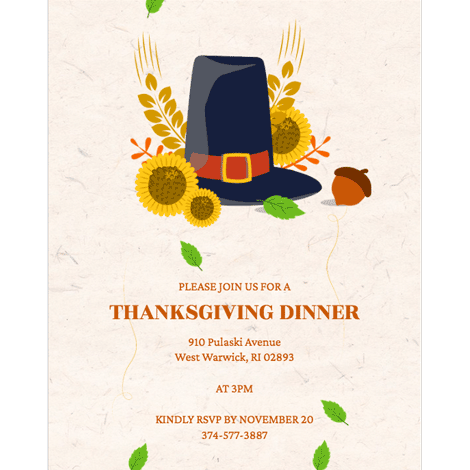 Looking for the perfect invitation to send to your loved ones for Thanksgiving? Look no further than our festive Thanksgiving Hat Simple Invite Google Doc template, featuring a charming pilgrim hat illustrated scene!

This eye-catching template is designed to capture the spirit of Thanksgiving, with its warm colors, playful illustrations, and customizable sections for adding your own personal touch. Whether you're hosting a big family dinner or a small gathering with friends, our template makes it easy to invite your guests in style and set the tone for a memorable holiday celebration.

With its easy-to-use format and fully customizable sections, our Thanksgiving invite template lets you quickly and easily create an invitation that's as unique as you are. Whether you want to include a heartfelt message, special instructions, or a festive design, our template has everything you need to create an invitation that's sure to delight your guests and get them excited for your Thanksgiving celebration.

So why wait? Download our Thanksgiving invite template today and start planning your perfect holiday gathering!