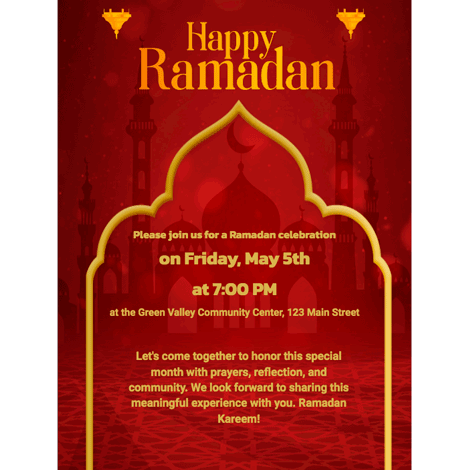 Introducing our Google Doc template for a Ramadan Community Event! This template is the perfect solution for anyone looking to organize a successful community event during the holy month of Ramadan. Our template includes all the essential sections you need to get started, such as an event schedule, a list of guest speakers, a menu planner, and a budget tracker.

Our user-friendly template is fully customizable and can be easily tailored to fit the unique needs of your event. Whether you're hosting a community iftar, a charity fundraiser, or a cultural celebration, our template will help you stay organized and on track. Plus, since it's a Google Doc, you can easily collaborate with your team and share the document with all relevant stakeholders.

Save time and effort by using our Ramadan Community Event template and make your event planning process smoother and more efficient. With our template, you'll have everything you need to plan a successful event that brings the community together and celebrates the spirit of Ramadan.