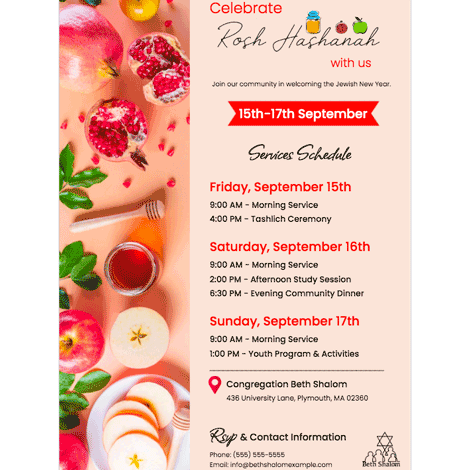 Introducing our Google Doc template for Rosh Hashanah Celebration Service Schedule, thoughtfully designed to capture the essence of this important holiday. This template beautifully incorporates traditional Rosh Hashanah imagery and conveniently presents your service times, creating a meaningful and informative document for your congregation or community.

Ideal for synagogues, religious organizations, and event planners, this template features a visually engaging design that evokes the spirit of Rosh Hashanah. With customizable sections, you can effortlessly showcase your service schedules, important dates, and any special messages or instructions.

Our Google Doc template provides a user-friendly editing experience, allowing you to easily tailor the content, colors, and layout to align with your organization's branding and the cultural significance of Rosh Hashanah. Whether you're planning services, events, or educational programs, this template offers a versatile and customizable solution for your Rosh Hashanah communications.

With this template, you can effectively convey the significance of Rosh Hashanah and ensure that your community is well-informed about service times and holiday traditions. Simplify your communications and enhance the sense of togetherness during this important holiday with our Rosh Hashanah Celebration Service Schedule template.