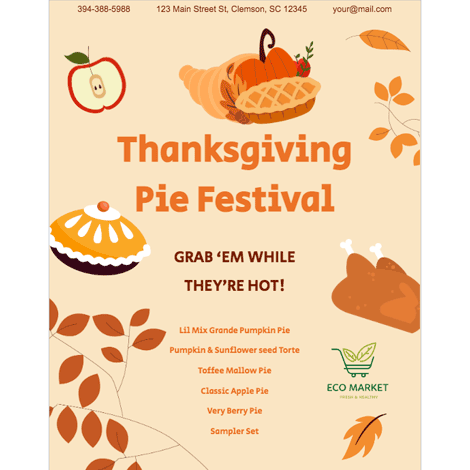 Introducing our Thanksgiving Pie Festival Flyer Template, exclusively designed for Google Docs! This versatile and easy-to-use template is perfect for promoting your upcoming festival, with its warm and inviting autumnal colors and beautiful pie illustrations.

The template features customizable text boxes, allowing you to easily input all the necessary details about your festival, including the date, time, location, and any special instructions. You can also add your own logo or images to make it truly unique.

Whether you're organizing a community event or promoting a local bakery, this template is the perfect way to grab the attention of potential attendees and get them excited about all the delicious pies they can enjoy. So why wait? Download our Thanksgiving Pie Festival Flyer Template today and start spreading the word about your upcoming event!