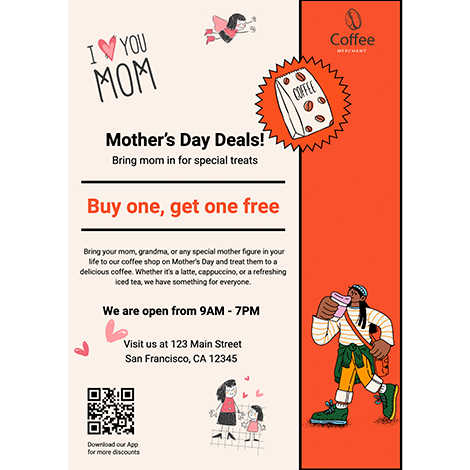 Introducing the Mother's Day Deal Google Docs template, the perfect way to create and share an adorable Mother's Day deal for a special treat with your customers! Designed with love and care, this template features cute cartoon drawings of moms and kids that will surely melt the hearts of your audience and create an irresistible charm.

Our Mother's Day Deal template is expertly crafted to help businesses and individuals promote their Mother's Day deals and specials in a delightful and engaging way. Whether you're a restaurant, spa, bakery, or simply want to offer a unique treat to your customers, this template is designed with you in mind.

Features:

Customizable Layout: The template's layout is easy to modify, allowing you to personalize it according to your brand's identity and the specific details of your Mother's Day deal.

Adorable Illustrations: The cute cartoon drawings of moms and girls will captivate your audience, making your deal stand out and creating a memorable impression.

Mobile Friendly: The template is designed to be mobile-friendly, ensuring that your Mother's Day deal looks fantastic on any device, from smartphones to tablets and desktop computers.

Easy-to-Use: Our "Mother's Day Magic" template is simple and user-friendly. Just add your deal's details, adjust the design elements as needed, and you're ready to share it with the world.

High-Quality Graphics: The template features high-quality graphics, ensuring your Mother's Day deal looks professional and eye-catching.

Celebrate the love and bond between mothers and daughters with our "Mother's Day Magic" Google Docs template. Download it now and start creating a heartwarming and unforgettable Mother's Day deal that your customers will adore!