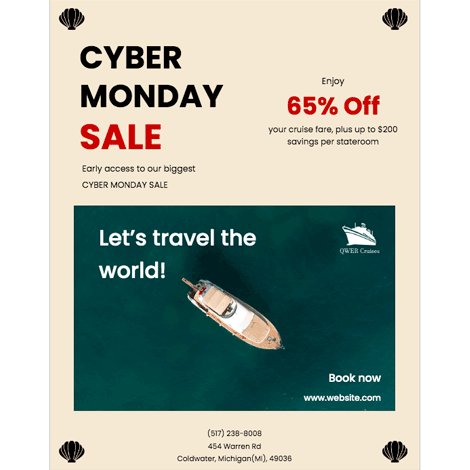 Introducing our Cyber Monday Neutral Color Travel Sale Google Doc template featuring a sleek and sophisticated design in neutral colors, perfect for promoting your travel sale. This template includes fully customizable sections for flyers, social media graphics, and email newsletters, making it easy to create high-quality marketing materials that capture the attention of your target audience.

The neutral color scheme and elegant design elements create a sense of calmness and relaxation, appealing to customers who are looking for a peaceful getaway during the hectic holiday season. Whether you're promoting a beach vacation or a ski trip, this template will help you create promotional materials that highlight your travel deals and encourage customers to book their next adventure during Cyber Monday.

So why wait? Start customizing your travel sale materials today with our sleek and sophisticated Google Doc template. With its professional and polished design, this template is sure to help you attract more customers and boost your sales.