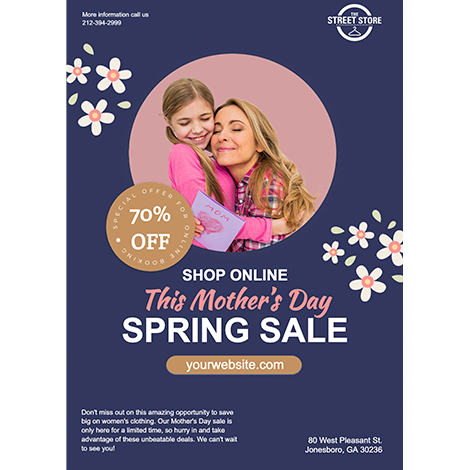 Introducing the Mother's Day Spring Sale Google Docs Template – a contemporary and heartwarming way to promote your Mother's Day sale while capturing the profound connection between a mother and her daughter. This chic template artfully combines modern design elements with the timeless beauty of a loving embrace, creating an unforgettable promotion that will touch the hearts of your customers.

The focal point of this template is a captivating photo of a mother and daughter sharing a tender hug, but you can use this photo as an opportunity to showcase one of your amazing products! 

Beyond its striking visuals, this template offers a clean, modern layout with ample space to display your sale information and personalized message. The customizable fonts, colors, and design elements allow you to effortlessly tailor the template to your brand's unique aesthetic, ensuring your promotion stands out from the crowd.

Designed with compatibility and responsiveness in mind, the "Floral Embrace" Google Docs template is accessible on all devices, enabling you to reach your customers wherever they may be. This eye-catching template ensures your Mother's Day sale will be an event to remember, spreading love and gratitude far and wide.

Celebrate the special bond between mothers and their children with the Mother's Day Spring Sale Google Docs template, an innovative and heartwarming way to advertise your Mother's Day sale. Let this visually stunning and emotionally evocative design bring joy, inspiration, and connection to your customers, making this Mother's Day one for the books.