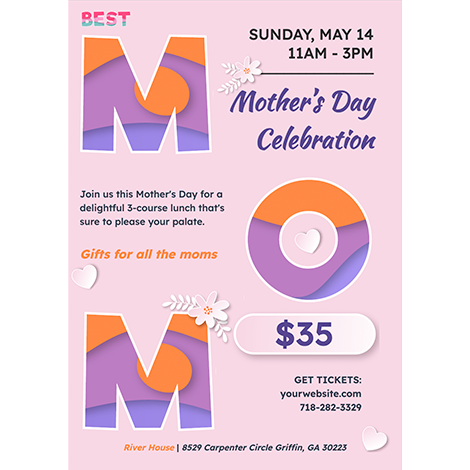 Celebrate the special moms in your life with our stunning and vibrant Mother's Day Event Celebration Google Docs Template. This template is designed to create a joyful and memorable event that perfectly captures the essence of Mother's Day. 

Featuring big MOM letters and charming illustrations in bright and playful colors, this template is sure to catch the eye and create a festive atmosphere that will delight your audience. The updated design elements showcase new and unique features, such as creative fonts, different colored backgrounds, and more delightful illustrations, all contributing to an even more visually stunning backdrop that perfectly embodies the spirit of Mother's Day.

This user-friendly template allows you to customize every element to suit your unique style and brand. The easy-to-use placeholders for event details, persuasive messages, and calls-to-action make it effortless for you to create a cohesive and impactful message that resonates with your audience. With updated customizable placeholders for images, you can easily showcase the event space, delightful decorations, or the individuals who will be joining you for the celebration.

Designed for practicality and efficiency, this template offers pre-designed sections for all your essential event information. Highlight the date, time, and location, and provide clear instructions on how attendees can RSVP or purchase tickets. The new sections and design features allow you to highlight your event's unique features, such as entertainment, special activities, or exclusive offerings, creating an even more engaging experience for your audience.

As a Google Docs template, this versatile tool allows for easy collaboration and sharing. Seamlessly collaborate with your team, make real-time updates, and ensure a cohesive and impactful message that resonates with your audience. The new features make it even easier to collaborate, customize and share the document, saving you valuable time and effort.

This Mother's Day, make your event truly memorable with our updated Mother's Day Celebration Google Docs Template. Embrace the festive and fun aesthetic, create a memorable event, and spread joy and love to all. Get your hands on our template today and create a Mother's Day Celebration that everyone will remember.