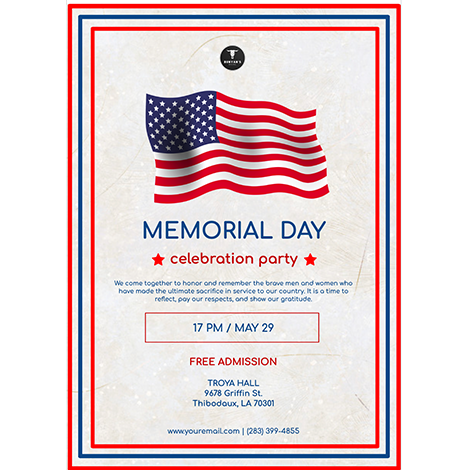 Introducing our Memorial Day Party Event Google Doc Template, the ultimate tool for planning and organizing a lively and unforgettable celebration this holiday!

This professionally-crafted template is designed to streamline the event planning process, ensuring that every detail of your Memorial Day party is accounted for. Whether you're hosting a backyard barbecue, a poolside gathering, or a themed extravaganza, this versatile template has got you covered.

The template features a vibrant and festive layout that captures the spirit of Memorial Day. With customizable sections for event details, party themes, activities, and menu planning, you can effortlessly create a comprehensive party plan that keeps your guests entertained and engaged.

Personalize the template to match your unique party vision. Adjust fonts, colors, and graphics to create a cohesive and visually appealing design that reflects your party's theme and ambiance. Add images or decorations that evoke the festive atmosphere of the holiday.

Collaborate seamlessly with your party planning team using Google Docs' collaborative capabilities. Share the template, make real-time edits, and communicate effectively to ensure everyone is on the same page. This collaborative approach ensures a well-coordinated and successful Memorial Day party.

Say goodbye to the stress of organizing a party from scratch. Our Memorial Day Party Event Google Doc Template saves you time and effort, allowing you to focus on creating an enjoyable and memorable experience for your guests.

Don't miss out on this essential tool for planning your Memorial Day party. Get your hands on our Google Doc Template today and prepare for a celebration that will leave your guests talking about it long after the holiday is over!