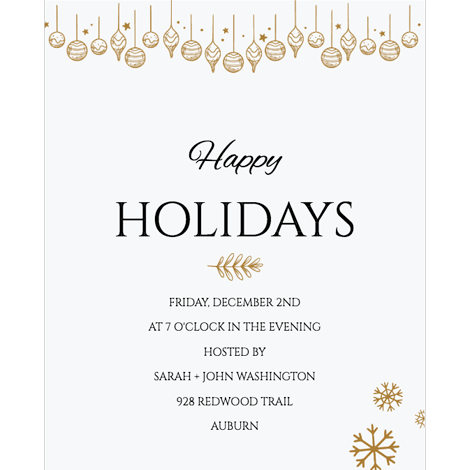 Introducing our Classic Holiday Party Invite Google Doc template!

This stylish template is perfect for creating a classic and sophisticated invitation for your upcoming holiday party. The minimalist gold holiday decorations on a clean white background give the invite a modern and elegant touch.

The template features fully customizable text, allowing you to personalize the invitation with all the details of your party, including the date, time, location, and dress code. You can easily change the font, size, and color of the text to match your preference and add your own personal touch.

Whether you're hosting a corporate holiday party or a family gathering, this template will help you create a beautiful invitation that sets the tone for your event. With just a few clicks, you'll have a professional-looking invite that will impress your guests and make your holiday party one to remember. Get started today and make your party stand out with our Classic Holiday Party Invite template!